Un ballo in maschera
Covent Garden, London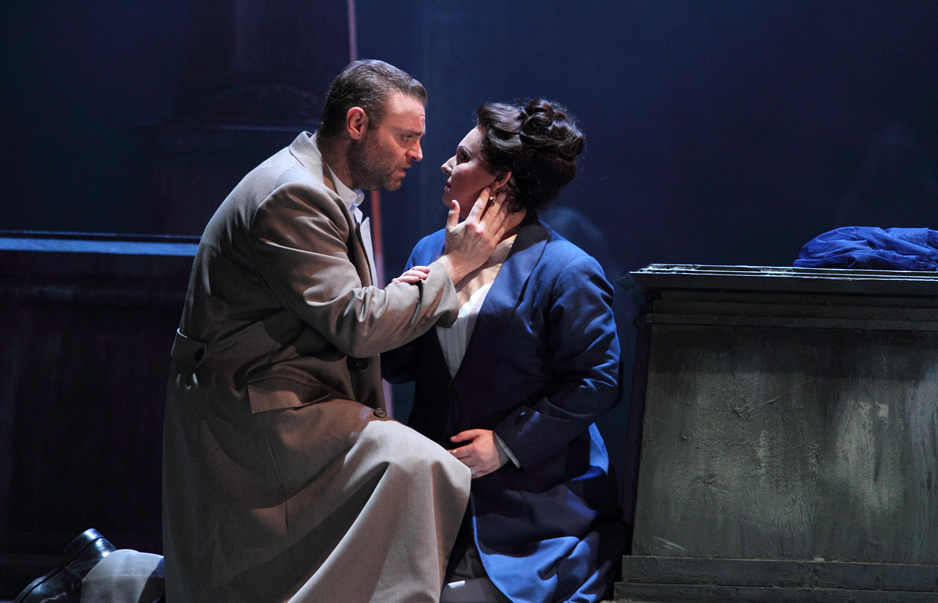 Stockholm or Boston or ….? Conductor Daniel Oren and director Katharina Thoma opted for Boston as regards the text, with one exception – "Addio, O diletta America " became "Addio, O diletta Amelia". Visually we were in neither place, rather a central European country in 1914 or just after. In the modern fashion, the surtitles dodged the issue, being general when the sung text was explicit. And also, in what too often is also the modern fashion, the direction neglected getting a the best possible acting from the singers in favour of a series of "ideas", mainly irrelevant to the principals and distracting for this viewer.
But first, the musical side. Alas that too was disappointing. Daniel Oren favoured slow tempi ("Morrò, ma prima in grazie" was in danger of stopping altogether), there was a conspicuous lack of tension throughout (crucially the love duet lacked passion) and ensemble between pit and stage was too often approximate (this was the third performance of the run by when you would have expected any first night problems to have been resolved). Joseph Calleja as Riccardo was by far the best of the principals, singing with much delicacy, yet not lacking in power when needed. In recent concert work caught on television I have been worried that the fast vibrato in his voice was becoming obtrusive and that his singing was at too unvaried a forte. Thankfully neither fault was apparent here and I could believe that this was a tenor who had studied those century-old recordings by Alessandro Bonci and Giuseppe Anselmi. Dmitry Hvorostovsky as Renato was a disappointment, the tone sounding old and lacking in bloom and projection. He did manage to spin long phrases in "Eri tu", but their effect was compromised by the noisy breathing between them. (I remember a La traviata some years ago in which he sounded more consumptive than his Violetta – not a recipe for dramatic conviction.) Liudmyla Monastyrska has all the notes for Amelia, her chest voice is powerful and the top is secure. But I hear little beauty in her tone, vowel sounds are covered and at times the vibrato is uneven. Some may like this dark veiled quality, but I am not among them. Marianne Cornetti (Ulrica) and Serena Gamberoni (Oscar) were satisfactory, though I would have liked to make out some trills from the latter, and still wish to hear an Oscar who inserts a cadenza into "Saper vorreste", emulating Selma Kurz or Luisa Tetrazzini. Small parts were adequately taken and the chorus sounded well when it was together with orchestra.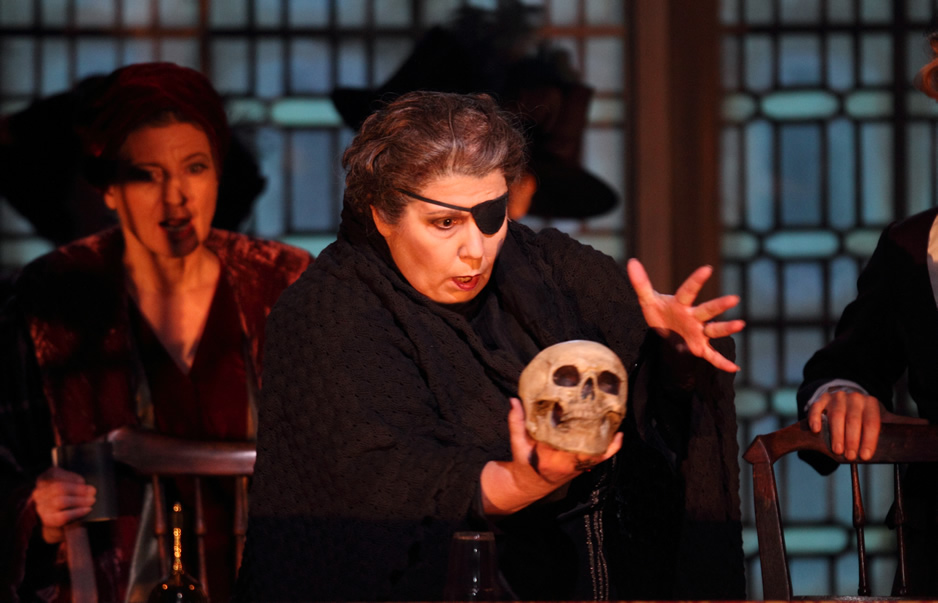 Visually, the inspiration was a very grey and drab cemetery. Some of the monuments were topped by figures that came into some sort of ghostly existence, accompanying the principals around at times (don't ask). Amelia sought the magic herb at the foot of one monument, but there was little of Verdi and Somma's "orrido campo". Her son was much in evidence, even crossing the stage during her aria. In Act III Scene I we saw not just Renato's study, but also his son's bedroom on one side and a lobby on the other. So during the whole of Renato's "Eri tu" we were distracted by Amelia's farewell to their son. No portrait of course, even though a totally irrelevant one had been introduced in the opera's opening scene. When Amelia announces Oscar's arrival at the start of the drawing of lots we also see Oscar who then leaves with a female servant and returns just in time for his scheduled entrance still suggestively adjusting his breeches. At the end, Riccardo dies on what becomes his own tomb. I could go on. At length. To summarize: lots of ideas, but very few that were helpful to the drama.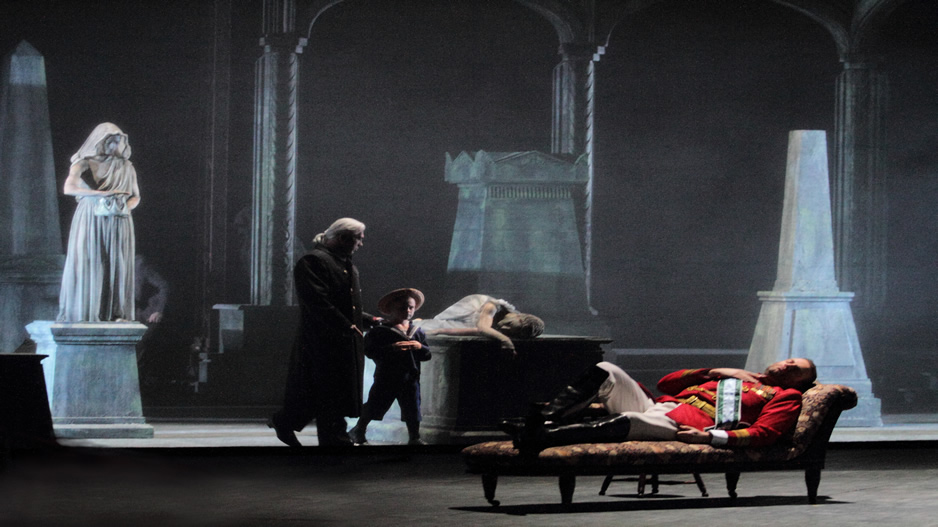 One final point. The previous Covent Garden production was mainly straightforward. But it did solve brilliantly the problem of the on-stage orchestra continuing to play well after Riccardo has been stabbed. A spectacular use of mirrors showed the orchestra in another room, a level lower, but still visible and audible to us. Only when someone thinks to tell them of the assassination do they stop playing. In this new production the stage band is visible in a side room. It stops playing and troops off at the appointed time, but for no apparent reason. Judging by the audience's lukewarm final applause few found this new production any more convincing than I did. And worst of all, the singers seemed equally half-hearted.
Alan Jackson
8/1/2015
Photo-Credit: Catherine Ashmore.