Covent Garden
Andrea Chénier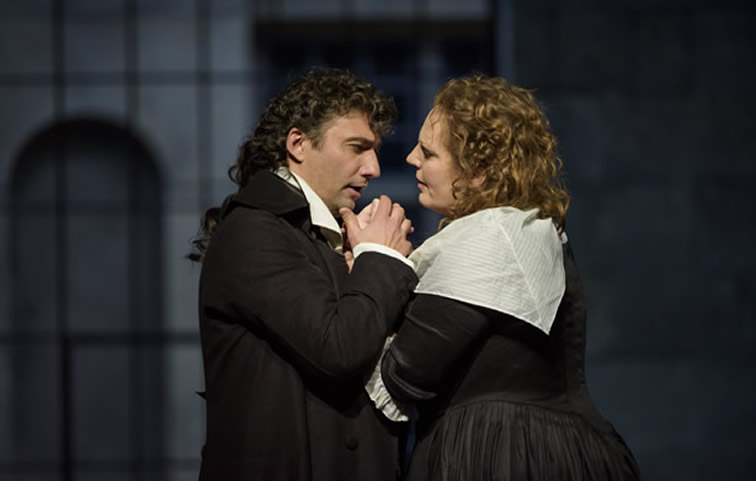 I have to confess that Andrea Chénier has never been one of my favourite operas. Not that I have seen or heard it often – it was last done in London some 30 years ago. One of my problems with it is that its tunes resolutely fail to imprint themselves on my memory. Opening lines, yes. I can tell you that there are arias called "Nemico della patria", "Un dì all'azzurro spazio", "La mamma morta" and "Come un bel dì di Maggio", and I can sometimes hum the opening line. But ask me how the aria develops and usually I am stumped. Partly this is no doubt my blind spot. But it also seems to me a consequence, for a non-Italian speaker, of Giordano's vocal style, a mix of conversation, declamation and lyricism, with the lyricism insufficiently extended or, dare I say it, memorable.
Covent Garden's new production, directed by David McVicar, is refreshingly straightforward. There is no conceptual overlay: he just tells the story and gets his singers to act - something that is so rare these days it almost seems innovative. Yet overall I was underwhelmed. The sets and costumes are all a bit too clean, and rarely did I feel the fervour, danger or fear of the French Revolution. Maddalena's self-sacrifice at the end when she takes the place of the condemned Idia Legray was movingly done, but the invasion of the Contessa's party by the mob in Act I lacked menace.
The cast was led by Eva-Maria Westbroek as Maddalena, Željko Lucic as Gérard and Jonas Kaufmann in the title role. All three acted with admirable conviction and all looked their parts. Westbroek was impassioned, though her voice lacks real bloom and the very top can lose purity. Lucic was excellent with no lack of power or projection. And Kaufmann? Well, he is obviously the star of the show, he is the tenor of the moment and it is presumably because of his drawing power that the seat prices were the highest of the season (£250 top price, more even than for Domingo in I due Foscari). His tone is beautiful, round and unforced throughout its range, yet there is something muted in its impact, at least where I was sitting, half way back in the Amphitheatre (the equivalent of a Gallery but with 20 rows of seats). I would blame the acoustics, but Lucic came through perfectly well.
Among the large supporting cast Elena Zilio as Madelon and Carlo Bosi as The Incredibile stood out. The Royal Opera's music director Antonio Pappano conducted, obtaining excellent playing and singing from the orchestra and chorus, but not generating, for me, the excitement that he has on many previous evenings. As I said, this isn't my favourite opera which may have coloured my reactions; the audience's response was warm but hardly ecstatic, even for Kaufmann.
Alan Jackson
4/2/2015
Photo-Credit: ROH. Photographer Bill Cooper.