Joyce DiDonato's new CD Stella di Napoli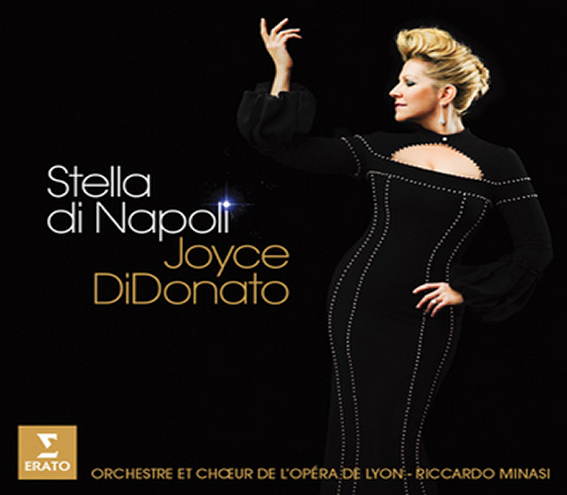 Joyce DiDonato's newly released CD entitled Stella di Napoli is surely the new 'must-have' recording for anyone interested in the byways of ottocento opera. The programme is certainly refreshingly unhackneyed, with lesser-known Rossini, Bellini and Donizetti interspersed with excerpts by Carafa, Pacini and Mercadante and even one track devoted to a composer and opera I had never heard of – Carlo Valentini and his Il sonnambulo. The performances are frequently stunning, DiDonato's voice is beautiful, lustrous and steady and technical difficulties, whether in slow, simple legato lines or in rapid coloratura, largely seem not to exist. She receives excellent orchestral support from the Orchestre et Chœur de l'Opéra National de Lyon under Riccardo Minasi, the recording quality is splendid and if the balance between voice and orchestra places the voice forward this is not overdone.
So what's not to like? Well, there are some things I wish had been done differently. Firstly, though the texts are printed in the CD booklet, there is not a word about the dramatic context for each piece. Especially with such rarities a short paragraph would have added to my enjoyment and appreciation. The introductory essay (presumably written originally in Italian but here appearing only in English, French and German translations) does contain interesting and informative points on the composers, but also some rather pretentious writing – without any elucidation, does the phrase "modernity in the most conservative understanding of the term" actually mean anything?
Secondly, there are a few occasions in the fastest coloratura when DiDonato's tone gets swallowed or bottled to the detriment of clear articulation. And some of the slow arias, exquisitely controlled and nuanced though they are, strike me as just too slow. I will try to justify these criticisms in the following notes on each extract.
The recital opens with a bang, a cabaletta from the Pacini opera that gives the recital its name. It is a crazy piece full of unexpected phrase lengths, modulations and cadenzas, and a swerve into the tonic minor as the singer ends each verse. The first few bars suggest we are in for a jolly piece, though that idea is immediately corrected when DiDonato spits out the word "barbaro" in the opening line and sighs "moro" a few moments later. It sounds like the cabaletta to an aria finale, with Stella fuming against her man and threatening her death. Actually it is her entrance aria! I can see that performing just this cabaletta makes for an arresting start to a concert, especially with a Haydnesque orchestral joke at the end which I'm sure DiDonato will exploit on the concert stage, but for a CD I regret the omission of the preceding cavatina and surrounding recitatives. It is a beautiful piece and performing the whole scene would provide the programme with another double aria – of its ten items only three are examples of this key form in operas of this period – and the chorus and supporting singers were already on hand. I don't much care for the very marked preparation for the sustained trill in the second verse which when it arrives it is remarkable rather than beautiful, but the rising sequences of trills are brilliantly handled and the general virtuosity is astounding. I would question the treatment of the sequence of descending chromatic scales. They are marked in the score with staccato dots, but inside a slur. This marking is open to interpretation, but later phrases have the dots without the slur and these DiDonato sings less staccato than the scales. The first Stella was Eugenia Tadolini, who Verdi considered sang too beautifully to be suitable for Lady Macbeth. For a couple of bars DiDonato sounds as though she might be auditioning for one of the witches. And for the record, the 1845 Ricordi score has the aria in C; DiDonato sings it down a tone in Bb.
Track two is Nelly's aria from Bellini's Adelson e Salvini, a beautiful andante in three verses, beautifully sung. It sounds familiar because Bellini reworked this music as Giulietta's "Oh! quante volte, oh quante" in I Capuleti e I Montecchi, reducing it to two verses. In Adelson the first two verses move from F minor to Ab major, the third stays in F minor until the final orchestral cadence which turns to F major to magical effect. DiDonato sings Bellini's ornamentation for the second verse and elaborates it and extends the cadenza in the third; it all sounds completely natural. A quick look at the score reveals one reason why the opera is hardly ever performed: the tenor part of Salvini contains dozens of top Cs and at one point soars to a top E. At the opera's student premiere in 1825 it was sung by one Luigi Perugini and one wonders what became of him. The role of Nelly was sung by Giacinto Marras – yes, it was an all-male cast and presumably Signor Marras sang in falsetto. The booklet indicates that DiDonato sings the revision Bellini made in 1828/29, a version that seems not to have been performed at the time, and indeed not until 1985. I am told that the opera is planned for Wexford in 2015.
The third track is an aria from Carafa's Le nozze di Lammermoor, an opera some readers will have heard of thanks to Opera Rara's "Hundred Years of Italian Opera". The set devoted to the years 1820 – 1830 includes a quintet from this opera. The aria recorded here is a Romanza in two couplets, a French operatic form, its use perhaps less surprising given that Carafa, though Neapolitan by birth, settled in Paris in 1827, and wrote 10 operas in French for the Opéra Comique. With prominent parts for both harp and clarinet it is another lovely discovery. In the opera it is followed, after some recitative, by a full double aria with chorus for Lucia – I would love to have heard that too. The second verse of this Andantino is freely and beautifully ornamented by DiDonato. The part was created by Henrietta Sontag, a true soprano. DiDonato sings the scene, both recitative and aria, a tone down. The opera has of course been eclipsed by Donizetti's opera of six years later, by when it was dramatically acceptable for a heroine to go mad and murder her husband offstage. Here Carafa departs from Scott; she takes poison and dies in the wedding scene while Bucklaw survives.
Next comes the final scene from Rossini's Zelmira, his last opera written for Naples (1822), complete with chorus and supporting soloists. Not surprisingly, DiDonato is in her element here, despite one or two instances of the "swallowed" fioriture I mentioned earlier. Most of it dazzles and there are some superb trills and runs, both chromatic and diatonic. She nicely decorates repeats of phrases in the opening section and inserts all the appoggiaturas (in my book this just means she sings the correct notes). I am not keen on the way she holds back the first phrases of each cabaletta verse. Yes, it points up the moment when the brakes come off, but the effect is rather disjointed. One can make a comparison with Elizabeth Futral on the complete Opera Rara recording. Futral doesn't play with the tempo so much here, but in general DiDonato is firmer and clearer, with a stronger low register, though Futral is accomplished by most standards. At the end DiDonato slows and inserts a high Bb on an unwritten fermata, while Futral maintains the tempo but inserts an unwritten high Eb. I think Rossini would be surprised by both.
As a complete contrast, Mercadante's La vestale follows, with DiDonato becoming the seconda donna as she assumes the part of Giunia, friend of the titular heroine Emilia. She opens Act II with a prayer for Emilia who has only become a vestal because she believed her lover dead on the battlefield. It is another beautiful piece, exquisitely orchestrated and equally exquisitely sung. Yet is it not just a fraction too slow? It is marked andante, at a walking pace, and I don't get the sense of flow that andante implies. However a comparison with the complete Naxos recording of the 2004 Wexford revival shows an equally slow tempo, so my view is no doubt a minority one. DiDonato inserts the tiniest of lead-backs into the return of the tune and also a beautiful appoggiatura on the final "scorran"; once heard it makes the Naxos performance simply sound wrong at this point. And in every other way too, DiDonato is incomparably superior.
Another seconda donna role follows in the form of Amelia's aria from Donizetti's Elisabetta al castello di Kenilworth, though Amelia is a major player in the opera, in no way a comprimaria . Imprisoned, Amelia contrasts her current misery with the happier days before her (imagined) betrayal by her beloved, Alberto, Conte di Leicester. The orchestration involves significant parts for harp and glass armonica. The booklet justifies the use of a glockenspiel, but I find the sound metallic and somewhat prefer that on both Joan Sutherland's performance on a 1985 recital and the complete live recording on Fonit Cetra of a 1989 Bergamo production with Denia Mazzola as Amelia. Good though these are, Mazzola is not in DiDonato's class as a voice and Sutherland by this time sounds a little effortful even if her tone colour is actually quite apt. The sense of past happiness supplanted by present cares is well caught by DiDonato in the cavatina. The cabaletta has a jaunty tune, not really consistent with its words, though it does make for contrast with the preceding section; in truth the sentiments of the cabaletta (I'm miserable now, but was happy then) aren't very different from those of the cavatina (I was happy then, but am miserable now)! I find the upward runs not quite distinct enough, the tone too covered. The cadenza linking the two sections of the cavatina sounds at first hearing as though the singer has turned a wrong corner, but as Sutherland and Mazzola both sing the same thing I presume that in fact it is just Donizetti not doing the expected (I haven't been able to consult a score). DiDonato sparkles at the end even if it is Sutherland who, at the age of nearly 59, can still provide the ultimate lesson in a series of short rapid trills. The first line of the aria seems a pre-echo of the first line of Adina's Act II aria in L'elisir d'amore and unusually, Donizetti repeats the words of the cavatina in the passage linking the two verses of the cabaletta.
The mood becomes elegiaic with Romeo's aria over the body of the seemingly dead Giulietta in Bellini's I Capuleti e i Montecchi "Deh! tu, bell'anima". The marking is andantino sostenuto. My music dictionary tells me that some composers use andantino to mean a little slower than andante though modern usage usually means a little quicker. Perhaps Bellini was one of those composers, for DiDonato's rendering is slow, very definitely sostenuto, and again exquisite. Her vocal arts are used in the service of this music, from the messa di voce on the opening phrase of the recitative (there, but not overdone), to the remarkable diminuendo on the final note which starts piano and reduces to nothing. Though marked as a crotchet, DiDonato holds the note for the whole bar, and as there is no change of underlying harmony, I find this perfectly acceptable. It is as though Romeo's reason for living vanishes along with the sound.
There follows the most intriguing item on the disc. An unknown opera by an unheard of composer (to me at least): Il sonnambulo by Carlo Valentini. He was born in Lucca where the opera was first performed in 1834 at the Teatro Pantera (by the 1990s it was a cinema, a fate not unknown to old opera houses and theatres). The Neapolitan theme of the recital rather breaks down here. We are told that it received its Naples premiere in 1845, but surely there are dozens of operas that first saw the light outside Naples by composers with no birth, student or residence connection with that city. Except that it is another beautiful piece, why choose this one? Incidentally, Valentini also wrote an opera entitled Amina . But as this predates Bellini's La sonnambula we cannot accuse him of any fixation! The aria seems to be about a reluctant bride on her wedding day comparing sea murmurs to a lover's dying breath, while having a vision of him in the starlight of a clear night. But I could be wrong; the lack of information here is frustrating.
Track 9 provides a fine souvenir of DiDonato's recent stage performances as Donizetti's Maria Stuarda and the choice of the prayer, with its preceding and touching recitative, from the final scene is unhackneyed. As at Covent Garden I find the prayer starts too slowly – it is marked andante commodo not adagio - though of course she follows the get faster markings later in the scene. Her first statement of the tune takes 41 seconds. Caballé live takes 37 seconds and Sutherland in the studio 34 seconds, quite a difference and I know which I prefer. Sills (in the studio) is equally slow. Again, DiDonato commendably puts in all the appoggiaturas in the recitative; she also uses the phrase "di lagrime bagnato" in the opening recitative to slip down a semitone (I haven't checked, but I suspect other mezzo Marias such as Janet Baker did exactly the same). The sustained high F# is both magical and a feat of breath control. She follows Sills in interpolating another sustained high note immediately afterwards (high A for DiDonato, Bb for Sills) and this one is thinner, less successful. At least she doesn't follow Sills in throwing up an octave as much as possible thereafter, a most un-prayerful effect. Though the choice of excerpt is enterprising, I'm not sure how well it works; if you know the opera you cannot but miss the following cannon shot and final aria. There can be a "bleeding chunks" issue with Donizetti too.
This recital ends with the longest item on the disc, the final aria from Pacini's Saffo, an excerpt lasting over 14 minutes, and very impressive it is too, both as a piece of music and as a performance. Erato have brought in the required chorus and supporting soloists, and even I understand why the whole scene couldn't be included here – the first ten minutes is largely choral. What we do have is a mad scene in all but name, described by Philip Gossett as a worthy heir to the final scene in Anna Bolena. It has the monumental and fatalistic qualities of Greek tragedy and is fully realised by DiDonato. This is another opera that has been revived at Wexford and the live recording of that 1995 performance is very much worth investigating. Francesca Pedaci yields to DiDonato in slightly less assured handling of the coloratura in the cabaletta, and more seriously, in cutting its repeat, perhaps understandably in the context of a tiring stage performance, but thankfully that is not an issue in a studio recording. Indeed DiDonato inserts some small decorations and, in the second verse, a cadenza that succeeds in being neither high, fast nor flashy, just a further intensification. Please Ms. DiDonato, insist on a staging of this opera.
With this CD Joyce DiDonato joins the list of great singers, Sutherland, Caballé, Horne and more recently Bartoli (though I have problems with the mannerisms and close-miking that feature on her discs) who have enriched our experience by bringing rarities from the ottocento into their recorded recitals. In the notes we are told that many possible items were rejected as there was no room for them. So I urge everyone to go out and buy this one. If Erato has a commercial success on their hands maybe we will be rewarded with another volume. Stelle di Napoli perhaps?
…. and at the Barbican, London , 25 September 2014 .
The concert, also using the Lyons Opera Orchestra under conductor Riccardo Minasi, but without the chorus and supporting soloists, was predictably a triumph. The programme was tracks 1 to 6 and part of track 10 (alas, we were only given the final cabaletta despite the billing of "Final Scene") with respite for Ms DiDonato in the form of Sinfonias to Elisabetta, regina d'Inghilterra, Norma and Alzira and Ballabile III from Le siege de Corinthe. As encores we were given Elena's final aria from La donna del lago (a deliberate and apt choice given that the concert was just a week after the referendum vote on Scottish independence and that it includes a plea for peace) and a second hearing of the final cabaletta from Zelmira. The glockenspiel (substituting for a glass armonica) was itself replaced by a flute in the aria from Elisabetta al castello di Kenilworth, though no-one seems to have alerted the writer of the programme notes, who also attributed Giunia's prayer in La vestale to Emilia.
The Barbican acoustic, at least in the upper reaches of the hall, is not terribly friendly to voices. At times DiDonato's voice was submerged beneath the orchestra and coloratura at this pace tends to be smoothed out – paradoxically, slower bravura would have sounded more virtuosic where I was sitting. Not surprisingly her performances were very much as on the CD. The doubts I expressed above about some tempi being too slow apply to two of the pieces that didn't make it onto the recital programme, and the staccato chromatic scales in the Stella di Napoli excerpt were less exaggerated in the large hall.
DiDonato, on this showing, is a very "still" recitalist, with arms kept by her side, gesture and movement largely eliminated. Her conductor made up for that in spades, leaping around, dancing, gesturing grandly. I may be wrong but I have a feeling the orchestra just got on with things regardless. Still, he and they followed the diva faithfully. In the orchestral pieces there was some mannered phrasing. Still, he deserves our thanks for the work done bringing such rare repertoire back to life. I was wrong to think that the end of the Stella piece might be "played with" to avoid premature applause. DiDonato remained still and no-one clapped too soon. . Maybe everyone has already bought the CD? And just in case there is anyone interested in such trivia, the good news is that her gowns (there was one for each half) and hairstyle were not those of the CD cover. A great evening, rapturously received.
Alan Jackson
28/9/2014