Londra
Il Turco in Italia al Covent Garden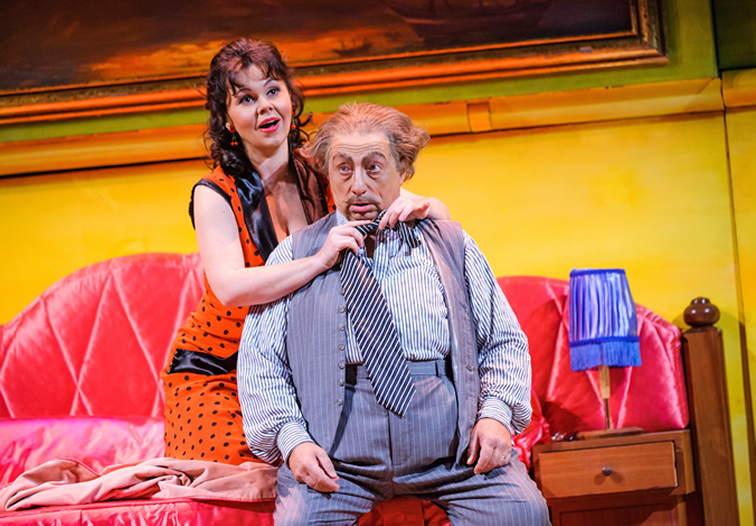 Rossini has fared well at the Royal Opera House so far this season. After an excellent, non-routine revival of Il barbiere di Siviglia in the autumn, we now have an equally good Il turco in Italia. The production is delightful, the acting is accomplished and much of the singing is exceptional.
As no revival director is credited, I assume Moshe Leiser and Patrice Caurier have returned to supervise their production first seen here in 2005. They update the opera to the 1960s so that we can have brightly coloured (even a touch garish) costumes and sets, a luxury yacht and car for the Turkish Prince Selim who dallies with Italian girl Fiorilla before he returns to his betrothed Zaida and she, maybe, to her husband Don Geronio. Fiorilla's cicisbeo Don Narciso makes do with a scooter. The plot is driven by the poet Prosdocimo in search of a subject; he finds it in the plot that unfolds on stage.
Everything is done with a light touch. The deliberate stereotypes of randy Turkish male, flighty Italian female and cuckolded older husband are portrayed with such finesse that they amuse rather than offend, and even the directorial additions such as the thieving gypsies who fleece passers-by of their possessions, clothes and even a baby, stay within the bounds of comic acceptability.
Vocally the evening was dominated by the Fiorilla of Aleksandra Kurzak and Selim of Ildebrando D'Arcangelo. Despite a throat infection she dropped every note of the fastest, most demanding coloratura sweetly and limpidly in place, and he too articulated remarkably clearly for so large a voice. If time has taken some toll on the actual voices of Alessandro Corbelli (Geronio) and Thomas Allen (Prosdocimo) they remain excellent vocalists and their stagecraft, gestures and comic timing are to be marvelled at. Barry Banks (Narciso) has the high notes and projection for Rossini, but these days we are used to greater clarity than he delivered in the runs. Rachel Kelly and Luis Gomes in the smaller parts made their marks.
After a rather scrappy overture on the night I was there (15 April) the orchestral playing under conductor Evelino Pidò was rhythmically buoyant, and the whole opera admirably paced. At the end, Narciso accepts the lack of Fiorilla's interest and pairs off openly with a male companion – a nice touch even if slightly anachronistic for the 1960s. And does Fiorilla return to Geronio? With all the principals and chorus lined up for the final ensemble a beach hunk strolls across the front of the stage, catches her eye and she skips off after him in eager anticipation. Clearly Geronio's woes are not yet over!
Alan Jackson
25/4/2015
Photo-Credit: Tristram Kenton